At Mansfield Crematorium we know arranging a funeral can be hard and you'll want to make the best choice for your loved one. We have a range of options and are on hand to advise, provide any further information needed, or to help you book a service and cremation. 
Around 70% of all funerals are cremations. Cremation is the process used to reduce a body to its base components, providing cremated remains which can be buried, scattered or retained by the family. The cost of a grave is generally more expensive than cremation although service costs are similar for both. 
All current Christian denominations, including the Roman Catholic Church, allow cremation, as do Sikhs, Hindus, Parsees and Buddhists. It is however forbidden by Orthodox Jews and Muslims.
Not everyone wants a cremation and we also have options for burial or interment of ashes after cremation. 
Our facilities
Mansfield Crematorium is a tranquil setting, with 2 chapels, on the outskirts of Mansfield. There is easy access from towns and villages falling within Ashfield District Council, Mansfield District Council, and Sherwood and Newark District Council as well as surrounding areas. 
Our 2 chapels allow you to choose a setting which suits your needs: 
Newstead Chapel – seating 60 mourners plus additional standing room
Thoresby Chapel – seating 150 mourners plus additional standing room.
Due to coronavirus restrictions the number of mourners allowed at a service is limited to 30 in Thorseby Chapel, and 15 in Newstead Chapel. 
Service for cremation
The service for burial and cremation is the same apart from the form of committal sentences. The service may take place at your own place of worship with a short committal service in the crematorium chapel, or you may have the whole service at the crematorium chapel.
Alternatively, you may prefer a civil ceremony be conducted, or even no service at all. Some also prefer to hold a memorial service after the cremation where the cremated remains become the focus of the service.
We actively encourage families/friends to make the funeral service of their loved one as personal as they like. We have an extremely extensive music system and are able to source most music that is legally and currently available (excluding that which only appears via YouTube or as mp3 downloads).
We also have bespoke Copeman Hart organs in both our chapels which provide a beautiful sound to accompany any singing. We encourage the use of soloists (vocal or musical), video presentations and have magnetic photo stands for use within the chapel for photos of your loved on. We often have dove or balloon releases following a service, which is very symbolic. Unfortunately we cannot allow Chinese lanterns as we are surrounded by trees and potentially it could put the building and woodland at risk.
Other facilities at Mansfield Crematorium
As well as our 2 chapels we also have:
disabled access
baby changing facilities
toilet facilities including disabled toilets
120 car parking spaces
Floral Hall
Book of Remembrance and Digital Book of Remembrance on site
hour long service slots (half hour service times)
range of service prices and options
Saturday morning office and service availability
Tuesday and Thursday evening – later opening until 6pm
tranquil setting
office and reception on site
large Gardens of Remembrance
grounds and building open 365 days a year.
Arranging and applying for a cremation
The Cremation Regulations are complex and many people approach a funeral director immediately after a death occurs, and advise him that they wish to arrange a cremation. The funeral director will ensure that all the necessary statutory forms for cremation are obtained and presented to the crematorium.
You can arrange and apply for a cremation without the services of a funeral director. The executor or nearest surviving relative may arrange the cremation service themselves and we can offer advice to help with this. 
There are some statutory forms must be completed and submitted before a cremation can take place.
These forms give details of the deceased and applicant for the funeral together with details of the service required:
Fees and charges
There are a number of costs associated with cremations, which are listed in our Fees and Charges for this year. 
Generally the cost of a grave is much higher than the fee charged for cremation (due to a grave having to be maintained for 'x' number of years beyond the actual burial date, whereas cremation does not have that requirement to the same degree) although the funeral charges are similar for both services.
The only additional charge for cremation arises when the death has not been referred to a coroner and 2 doctors need to be paid for the necessary certificates. This does not apply to burial currently.
Cremated remains, memorials and tributes
Under normal circumstances the cremation is usually carried out shortly after the service, and certainly on the same day. Where this can't happen due to an emergency or planned procedure (such as a service requested to take place before completion of legal documentation) we will keep the person who applied for the cremation fully informed. 
A cremator can only accept one coffin at a time and so remains are kept separate. Exceptions may be made for mother and baby, or small twin children accommodated within one coffin, so long as the next of kin or executor has made this request. 
If you wish to view the committal you must let us know when the cremation is booked. We'll make preparations on the day. We restrict viewing of the committal to a maximum of 6 people. 
Cremated remains
It is important to reflect and choose what to do with cremated remains in a way that is right for both the deceased, and also for those they have left behind. There is no wrong or right method as everyone is different, having different needs and beliefs.
We offer number of options for cremated remains:
burial in a grave plot within one of our cemeteries
placement in a columbarium vault, on a 10 year lease (this is often seen as only a temporary repository for cremated remains and should not be viewed as the final resting place)
scattering the remains in the woodland area of the crematorium grounds.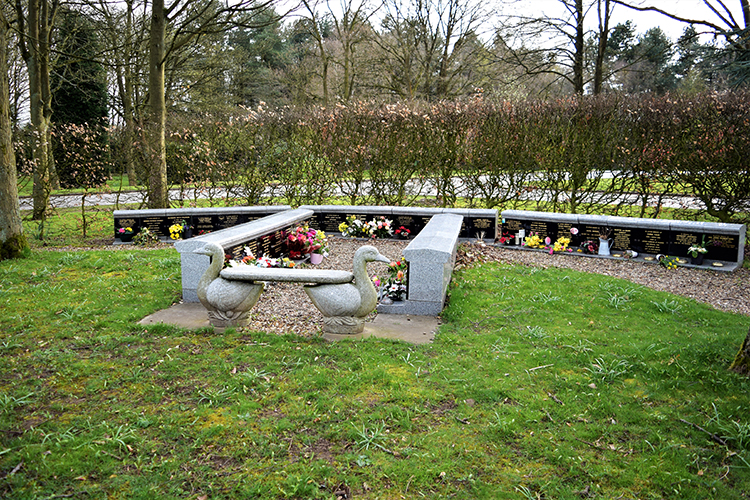 You may wish to keep your loved ones remains at home until you make a decision, or you may be able to keep them at the funeral directors. If you wish to scatter the cremated remains/ashes of your loved one in a place that was special to them in life, there are regulations surrounding this. You should also gain the permission of the landowner.
More options about options for cremated remains are in this document which you can download or view online: Cremated remains.
Memorials
While cremated remains do not require a grave in the same way as a burial, many families still want to commemorate their loved ones. We offer a number of memorial options.
Floral tributes
We encourage families to bring tributes for their loved ones. However, in order to keep the building and grounds in a state that provides a fitting tributes to all who use them, we have Floral tributes in place.
Other important information about cremation
Recycling of metals following cremation
Metals in medical implants are produced from non-renewable sources.
We now participate in a national scheme which collects such metals to be recycled, with the permission of the next of kin.
Money raised is donated to bereavement based charities.
Our Recycling of metals provides more information.